Human Trafficking Wing Busted By A Lady In A Building Around 53 Johannes Ramokhoaste Street In Pretoria (Alert)
A lady exposes a building & address where she was asked to come for an interview unknown to her was a Human Trafficker bunk in Pretoria.
The lady uploaded a picture of a building where she described as a hiding place for human traffickers in Pretoria.
She went further to reveal that she has once been invited for an interview in one of the buildings.
"I've literally been invited for an interview to 3 of the addresses on that list and I would just be lazy to go"
In her story, she said:
"Treu story this happened only a few hours ago
Human trafficking is real, this is my story (what happened to me today).
So i got tagged on a job opportunity post on my old profile o I liked the post just to show I saw it I got a DM from some girl (Her profile doesn't exist now) She complimented me cool then asked if I'm still job hunting was like yeah long story short she sent me an email address and I emailed my document cool, so yesterday I got an email inviting me for an interview cool in Pretoria with company's address and phone number etc I only Googled the company just to see the reviews my mistake is not confirming the address (not original) salary, benefits and uncapped com…."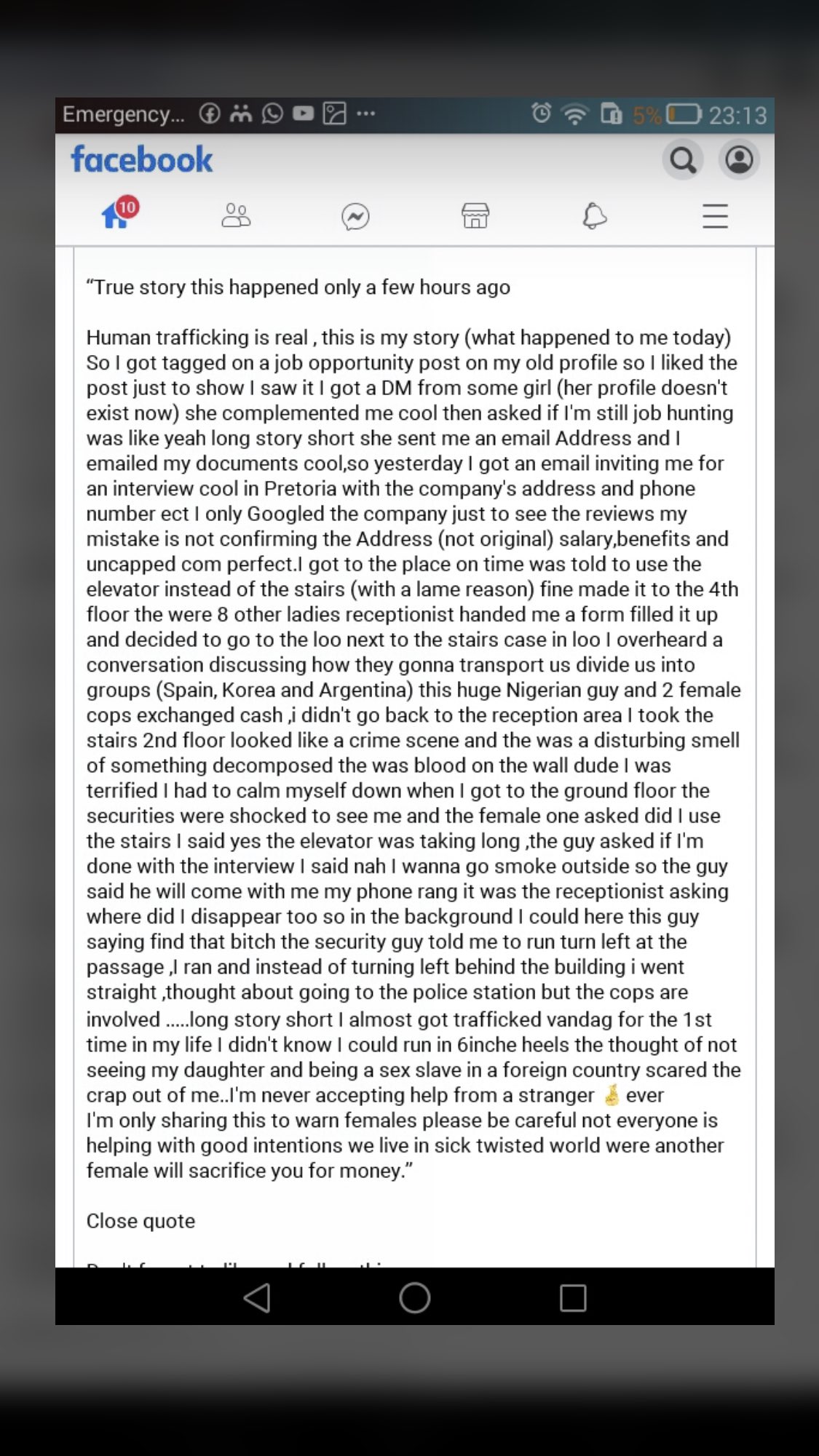 When they recognised that she was about to expose them they sent a message to threatening to kill her if she refuses to delete the post.
This is what they said:
"U think u clever bcoz u escaped u go bring trouble for urself delete de stupid post see the dream u had that's how u go die ur family will watch u decompose alive. The reason u got picked it's not bcoz u beautiful u South African bitchz are ugly lazyluv money nd uneducated u think by posting police will care the only thing they care about is money ur day is coming bitch" this really scary though, hope they don't come after her soon.