Former DOT Chief Mon Jimenez Is Dead
The Former DOT Chief Mon Jimenez  dies at the age of 64, The 'It's More Fun in the Philippines' campaign was launched during Mon Jimenez's time as tourism chief.
The news came after Philippians's Tourism Secretary Bernadette Puyat  revealed his sudden passing away on the social media.
Mr  Bernadette Puyat extended her condolences to the family of Jimenez saying: "Today, we mourn the loss of Mon Jimenez, but we will be forever grateful to him for the growth of the tourism sector, and for promoting the Philippines as a place that is wonderful, joyous, and fun.
Below is  close statement issued by Bernadette Romulo Puyat on the passing of former DOT Secretary Ramon Jimenez Jr :
On Behalf of the officials and employees of the department of Tourism (DOT),  i would like to extend our sincerest condolences to the beraved loved ones of former Tourism Secretary Ramon Ramon Mon Jimenez who recently passed away.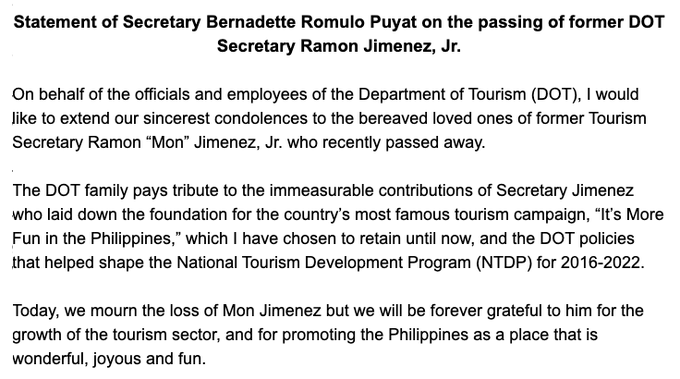 The news was of his death has been confirmed by some members of the Aquino Cabinet with whom he served. Jimenez's family has yet to issue a statement.
Jimenez who is  a marketing communication expert was one of the pillars of the Philippine advertising industry. He began his career in the creative department of Saatchi & Saatchi and later on formed his own ad agency, spending decades in the industry.