Profile & Biography Of IsIismaila Isa Funtua
| | |
| --- | --- |
| Real Name | Ismaila Isa Funtua |
| Age | 78  yrs |
| Country | Funtua, Katsina State, Nigeria |
| Career | CEO of Bulet International Nigeria Limited |
| Son | Abubakar Funtua |
| | |
| --- | --- |
| Death Date | July 20th, 2020 |
Who Is Islismalia Isa Funtua
Meet Ismaila Isa Funtua said to be the Nigerian president Muhammadu Buhari's crony.
Funtua is the chairman of Bulet International Construction Company, which was involved in the development of the new capital in Abuja in the late 1980s and early 1990s.
It is believed that Funtua is a personal friend of the Nigerian President, hence he has his ears on national issues, including appointments.
He does not hold political office but he has much influence on the President even more than those who are holding offices.
He has been part of Buhari's delegation on some of his foreign trips, including his official visit to the United States in July 2015.
Alhaji Ismaila Isa Funtua worked at the Katsina Native Authority for decades ago.
Early Years Of Alhaji Isimaila Isa Funtua
Alhaji Isimaila was  born in Funtua, Katsina State, Nigeria, he was trained as an administrative officer at the Institute of Administration, Ahmadu Bello University ,ABU, Zaria and also Manchester.
Education
Alhaji Ismaila Isa Funtua went to the University of Manchester and obtained a degree in Business Administration
Career & Involvement Politics
Alhaji Ismaila Isa Funtua is a well known as a businessman, media patron and administrator. His exceptional statesman has been profitable to his country Nigeria's developmental trajectory since years.
He was a Minister of Water Resources in the past Second Republic, had in public and private stewardships, did what he believed was good for Nigeria.
He Spareheaded the establishment of Democrat Newspapers during military dictatorship in the 90s.
Funtua was the no 13 of the targets of the Late Sani Abacha regime, as he was no the hit-list.
He was among the committee of 37 people that established zoning system and rotational presidency, which resolved that rotation of power between the North and South be entrenched in the Constitution.
He was a pioneer student of the Federal Training Centre, Kaduna
He was the Monitor General of the Course 9 of the prestigious National Institute of Policy and Strategic Studies, NIPSS, Kuru
He worked as the Personnel Manager of the 10,500 strong United Nigerian Textile Company, Kaduna.
He is CEO of Bulet International Nigeria Limited one of the largest wholly owned indigenous construction company which built most of the iconic public buildings in Abuja. He is the founding Managing Director of the New Africa Holdings – publishers of the defunct Democrat newspapers.
He was elected as the Vice President to the late MKO Abiola as President of the Newspaper Proprietors Association of Nigeria, NPAN, where he declined to succeed MKO as President while being incarcerated by General Sani Abacha.
He was Personnel Manager in United Textiles Limited (UNTL), responsible for over ten thousand staff and a one-time Minister of the Federal Republic of Nigeria.
Meet Alhaji Ismaila Isa Funtua's son, Abubakar Funta
Ismaila Isa Funtua's son Abubakar Funta a year ago bought Lamborghini Huracan worth of $190,000 (N70m), he is married to the daughter of the Nigeria's president Mammadu Buhari by name Sefinatu.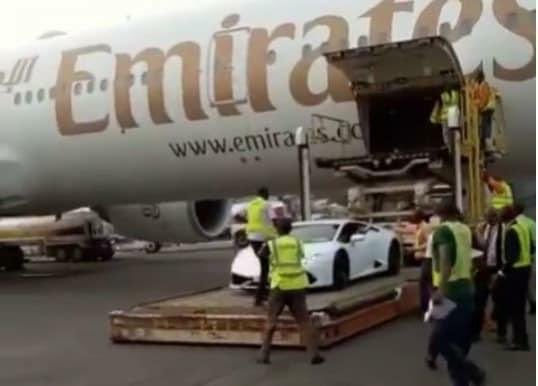 IsIismaila Isa Funtua Death
Mallam Ismaila Isa Funtua who was the founding Managing Director of Democrat Newspaper and former President of the Newspaper Proprietors Association of Nigeria (NPAN) died on July 2o 2020. He died of cardiac arrest.