The Tanzanian truck driver from Dar Es Salaam who ran away after testing positive in Uganda have been found
It was earlier reported that authorities in Uganda are tracking a Tanzanian cargo driver who tested positive for Covid-19 at Mutukula on April 16 as he entered the country.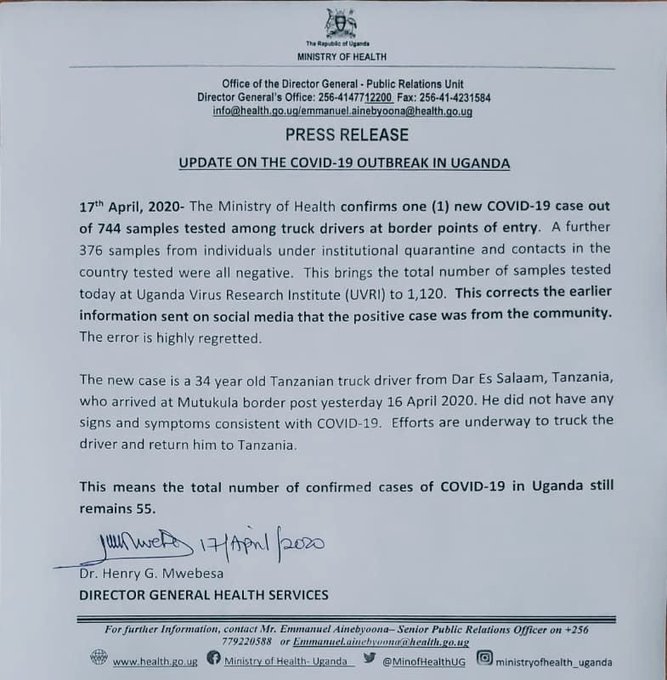 The government have revealed that the earlier confirmed news on the new covid-19 case is a 34 year old Tanzanian truck driver, contrary to what was earlier report.
The news came in this morning after the Hon. Minister made the contradictions against the rumored communication purportedly authored by may Sayers that the case is of a Tanzanian driver.
It was rumored that earlier yesterday that a Kenyan truck driver tested positive for covid-19 in Uganda & was returned to Kenya for treatment. The same is being done for a Tanzanian, yet, Rwanda is treating a Ugandan with the virus, Uganda is treating 4 Chinese nationals.
Efforts are underway to track the driver and return him to Tanzania although the confirmed cases still remains at 55 authorities confirms.
Many are of the opinion that the suspected Tanzanian case only shows that no matter the drastic measures Uganda takes, it will be hard to keep coronavirus out if their borders they have suggested that government should enforce the same strict measures. It is time for more drastic measures drivers should be be tested at point of departure not border.
It is already rumored  that a lot of the trucks that bring cargo into Uganda belong to Ugandan bigshots but are registered in Kenya and Tanzania? That could explain why such anomalies are in place in the country. this an act of greed over common good from high ranking Ugandans.