Central Bank Of Kenya Sanctions (Absa Bank), Formerly Barclays Bank For Illegal Transactions
Central Bank of Kenya has taken regulatory actions against Absa Bank, formerly Barclays Bank for conducting illegal transactions.
The news came in on Thursday morning stating that the Central Bank Of Kenya has sanctioned once formerly Barclays Bank (Absa Bank) for their involvement in an illegal financial transactions.
According the statement released by the bank on Thursday stating that the Central Bank Of Kenya has taken  a regulatory action against Absa Bank Kenya PLC (Absa Kenya), following the bank's failure to provide information about some specific foreign exchange trades that it conducted in March 2020.
In investigating these and other earlier transactions it is evident that Absa Kenya did not have satisfactory assurance of the underlying commercial transactions supporting these trades, as is required, nor did the bank ensure the standard checks on the anti-money laundering and combating the financing of terrorism (AML/CFT) and know-your-customer (KYC) requirements were applied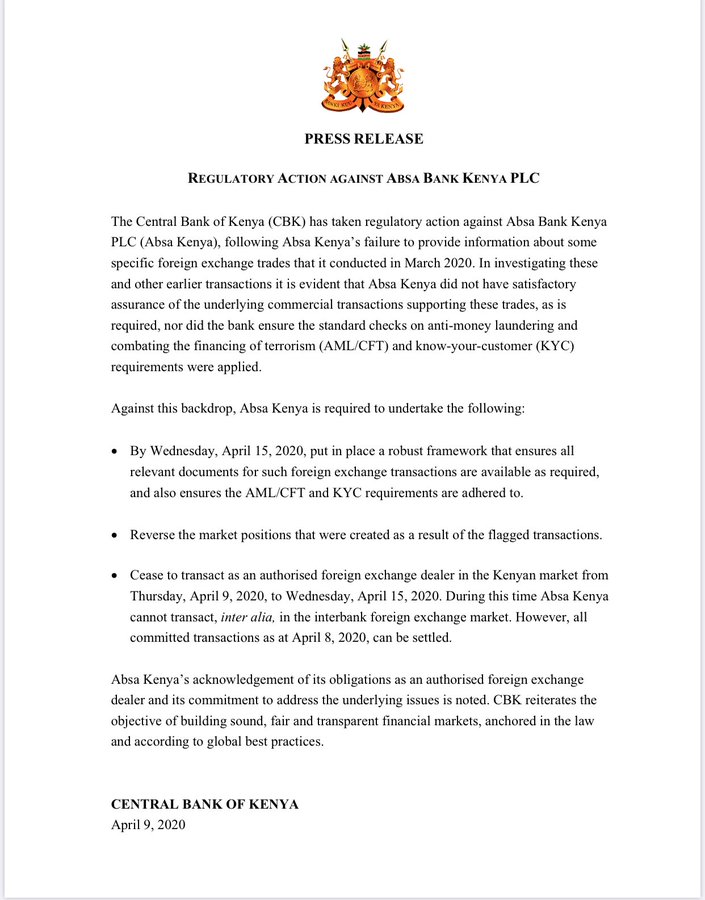 Absa Bank Kenya Plc, formerly Barclays Bank Kenya Limited, has been a commercial bank in Kenya and a subsidiary of South Africa-based Absa Group Limited. It is licensed by the Central Bank of Kenya, the central bank and national banking regulator.
Although several banks in Kenya laundered NYS money. Looted public money. But executives were never held accountable. The banks were fined and left to thrive. Individuals executives who actually authorized the money laundering were never held accountable. It must be nice working in a bank. when banks falters or are caught in illegal transactions like this they should prosecuted for such indulgence because this is not why people deposit their money they.